Soccer Athlete Success Evaluation (S.A.S.E.)
"Behind every kick of the ball there has to be a thought."
Dennis Bergkamp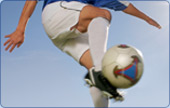 Soccer players need to be light on their feet and light in their mind. To be weighed down by self-doubt or a fear of failure can bring even the most physically-gifted athletes to their knees. Imagine having the weight of your country's pride on your shoulders! Besides what often seems like a never-ending amount of stamina, soccer players must have the capacity to handle the mental aspect of this highly-competitive sport.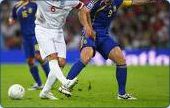 S.A.S.E was built to evaluate whether a player can handle the psychological aspect of a game. The ability to stay focused and determined despite being behind a couple of goals, to make quick but smart decisions on the field, and to play with heart requires an amazing amount of mental stamina. This is a very high pressure arena. Even players who have grown up with the sport know that it's not so much about the fancy footwork, but the mental work that goes into every kick, pass, and save. As famous soccer player Pele put it, "Success is no accident. It is hard work, perseverance, learning, studying, sacrifice, and most of all, love of what you are doing and learning to do."