Hockey Athlete Success Evaluation (H.A.S.E.)
"Hockey players have fire in their hearts and ice in their veins."
Author Unknown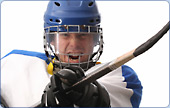 Every battle against the boards, every power play or penalty kill, every face-off and every game is a mental one. Bruises and ligaments heal, but mental setbacks can sideline a player no matter how physically talented he/she is. Scoring ruts and letting easy goals in are evidence of this. Why is it that elite players rarely face these obstacles? How does the star goalie not crack under the pressure of facing a barrage of shots in the last two minutes of a do-or-die playoff game? How does the star forward score that game winning goal with the hopes of every team and fan hanging in the balance? What differentiates the good ones from the great ones? It starts in the mind.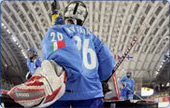 H.A.S.E. was designed to assess whether a player can handle the mental side of the game. Whether he/she has the competitive streak needed to keep battling on no matter what the scoreboard says; the passion needed to play as though every game is a playoff game; the discipline needed to keep his/her head clear and his/her body out of the penalty box, and the mental strength to handle the most intimidating opponents or circumstances. These, among other traits, are what make up a star player.