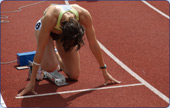 Welcome to AthleticAssessments.com
This section is a resource for use by news media and persons with an interest in sports psychology.
It contains news releases, backgrounders on current products and information on how to obtain a free "test drive" of the assessments we offer.
For more information, please contact us, at
sales@athleticassessments.com
or via telephone at 514-745-3189.